24 Nov

Aviation Finance
Aviation Finance
We advise on a broad range of financing structures, including warehouse financing, asset-backed securities and bankruptcy-remote structures. We regularly advise on secured financings of Bermuda-registered aircraft, engines and spare parts.
Publications
We have published extensively in highly regarded international guides. Please see the Bookshelf
for downloadable PDF versions of our subject-specific Bermuda chapters and related articles.
View our Aviation Finance brochure: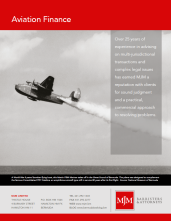 Aviation Finance Update (2016)