Property
Our Property team is dedicated to assisting with all residential and commercial property acquisitions and sales (freehold and leasehold), mortgages and other property transactions. Our projects and transactions include residential, recreational, resort, industrial, commercial, hotel, office, and retail properties. We also provide practical and reliable advice on complex property issues.
This team also draws on the expertise of other MJM lawyers from the Dispute Resolution, Regulatory and Corporate and Finance teams. For instance, if disputes arise, our mediation, arbitration and litigation lawyers are available to assist our clients. For specific advice on disputes relating to property, please see our Property & Planning disputes group.
Further details may be found on our sub-pages.
Private Client
Members of our Private Client team undertake both contentious and non contentious individual and commercial private client work.
Non-contentious Matters
Attorneys in our Private Client team are well-qualified to assist clients in achieving efficient long term estate, succession, wealth and tax planning and/or to promote philanthropic objectives. Wherever appropriate, we make use of private wealth-holding and management structures, including private trust companies and Bermuda law trusts (often involving underlying corporate and partnership structures) We routinely advise institutional trustees (domestic and foreign) on matters involving Bermuda law issues as well as trust and estate beneficiaries and trust protectors. The team is highly experienced and well positioned to give effective advice and implement practical solutions.
We also offer estate planning advice, will drafting, powers of attorney and undertake receivership applications, probate applications and estate administration. All such matters are handled with care, sensitivity and confidentiality. Our clients include, local and internationally based families and high net worth individuals with investments and holdings in multiple jurisdictions. As well, MJM attorneys routinely work with the "Big Four" accounting firms and internationally recognised law firms in the UK and worldwide.
Contentious Matters
Members of MJM's Dispute Resolution team are regularly called upon to advise and assist with contentious trust and estate matters. For specific advice on contentious trusts and estates, please see our Trusts and Estates disputes group.
Further details may be found on our sub-pages.
Corporate Services
We provide a variety of services to support the day-to-day corporate services needs of private clients through Quorum Limited
Publications
We have published extensively in highly regarded international guides. Please see the Bookshelf for downloadable PDF versions of our subject-specific Bermuda chapters and related articles.
View our Private Client brochure: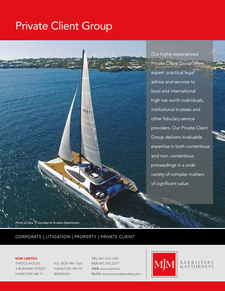 Bermuda Trusts Update (2016)