Corporate & Finance
We have extensive experience in advising local and international clients on a wide range of corporate transactions and related company law issues. Our team has proven professional skills and has earned a reputation for sound judgment and a practical, commercial approach.
We advise on:
General company law
Joint ventures and partnerships
Shareholder disputes
Winding up and liquidation
Bond and note offerings
Initial public offerings ("IPOs"), secondary offers, rights issues and private placements
Restructuring and reorganizations
Further details may be found on our sub-pages.
Recommendations
"They have a very good understanding of the concept of a business decision – they are very commercial." – Client quoted in IFLR1000, 2014
"MJM Limited's team is 'efficient and responsive, and it has a good grasp of the industry issues'" – Client quoted in the Legal500, 2014
"We've used them for a number of years and we are very pleased with their service. They've been handling corporate matters for us, some regulatory and some M&A. I certainly would recommend them to anybody who asked me where to go for Bermuda counsel. I've used a lot of law firms on a lot of different matters – Skadden, Wachtell, Sullivan & Cromwell, Shearman & Sterling – and these guys are every bit as good for what we ask them to do." – Client quoted in IFLR1000, 2015
Company Administration
The full range of company secretarial services, including the incorporation of companies and the provision of corporate directors and company secretaries is available to clients through our affiliated companies: Quorum and MJM Europe Limited. Nominee services are also available through Quorum Nominees Limited.
Publications
We have published extensively in highly regarded international guides. Please see the Bookshelf for downloadable PDF versions of our subject-specific Bermuda chapters and related articles.
View our Corporate & Finance brochure: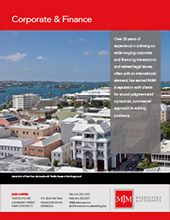 Aviation Finance Update (2016)
Directors' Duties (2016)